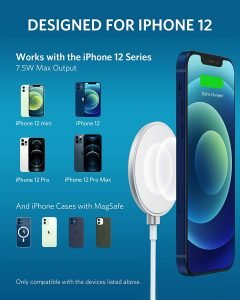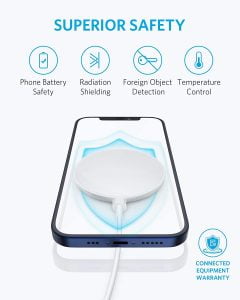 Anker Power Wave Magnetic Wireless Charger (A2560):
Feature:
PowerWave

 Magnetic Pad: Effortless Wireless Charging for iPhone 13 & 12 Series
Magnetically Snaps into Place: PowerWave's magnetic design attaches quickly and securely to your iPhone 13's wireless hotspot to deliver efficient and stable charging every time.
Wide Compatibility: If you have an iPhone 13, 13 mini, 13 Pro, or 13 Pro Max, PowerWave will connect flawlessly to charge at up to 7.5W. Also compatible with MagSafe iPhone cases. Note: This charger only works with the iPhone 13 & 12 series.
Uninterrupted Charging: PowerWave won't get in your way while you're using your phone. Whether you're playing a game or catching up on your favorite show, you'll be able to comfortably grip your phone while you're charging.
Safety First: Designed with temperature control, foreign object detection, radiation shielding, and more advanced safety features to deliver a safe charging experience.
Compatibility: PowerWave is only compatible with the following devices: iPhone 13, iPhone 13 mini, iPhone 13 Pro, iPhone 13 Pro Max, iPhone 12, iPhone 12 mini, iPhone 12 Pro, iPhone 12 Pro Max, and iPhone cases with MagSafe.

No More Alignment Problems: Snaps magnetically into place to ensure perfect alignment and a strong hold for stable and efficient charging.

Designed for the iPhone 12 and 13 Series: Pairs up flawlessly with the magnetic functions of the iPhone 13 and 12 series, as well as with compatible MagSafe phone cases to offer up to 7.5W of charging power.

Unobtrusive Design: Only 0.3 inches thick to remain as low profile as possible while clipped to the back of your phone.

Travel Ready: Compact, lightweight, and extra thin to fit easily into any backpack.

What You Get: PowerWave Magnetic Pad (with built-in 5 ft USB-C cable), welcome guide, worry-free warranty, connected equipment warranty, and friendly customer service.
Related products: